Trainings
Cycling in the mountain requires to be prepared to relatively long/hard effort under sometimes more difficult conditions than usual (sun, wind, thin air). It is clearly not necessary to follow strict trainings to be able to climb a pass (even as famous as the Galibier or the Izoard). Anyway, it might be helpful to have benn on a bicylce a few times before climbing. For example, 500km in the 3-4 months preceding the climb is a minimum.
Of course, if you want to be in perfect shape for trying a climb, you should ride much more. As an example, take a look at some statistics of my trainings along the years...
Below, you will find a more specific section for the measure of my performances. We observe a peak of form in summer, when I go to the Alps.
Measure of performance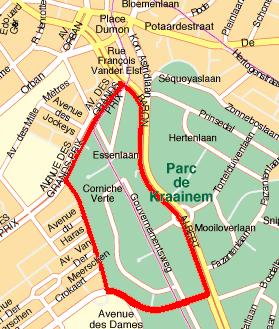 "Normalized" circuit for measuring

the state of my form


This circuit is a 4-streets loop: Grand-Prix Avenue, Baron D'Huart Avenue, Dames blanches Avenue and the Tir aux pigeons. The start line is fixed at the 10 G-P Avenue. I start riding and turn around the loop clockwise (on cycle tracks, it's the opposite direction) the goal is to ride 30km; One lap is about 2,91 km long, so you have to turn 10 times plus a half lap. The approximate profile is the following: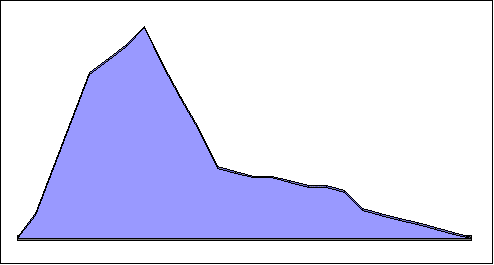 In fact, the climb is ridden 11 times while the descent only 10. Here is my performance curve drawn since april 2002. The points for September and December 2002 and February 2005 are interpollated.



The vertical scale shows the average speed (in km/h) for riding the 30km.
See also the section "Hour Record".