---
Col d'Izoard (2360m)
---

5 climbs
Northern side
| | | | | | |
| --- | --- | --- | --- | --- | --- |
| | Briançon (1220m) | Col d'Izoard (2360m) | 19,6 km | 1140m | 5,8 % |
| | | |
| --- | --- | --- |
| 2001 | 1h 20mn | 14,7 km/h |
| 2003 | 1h 16mn (1) | 15,5 km/h |
| 2004 | 1h 16mn 30s | 15,4 km/h |
(1) Best time out of the 2 climbs made.

Southern side

| | | | | | |
| --- | --- | --- | --- | --- | --- |
| | Guillestre (1050m) | Col d'Izoard (2360m) | 30,2 km | 1310m | 4,3 % |
| | | |
| --- | --- | --- |
| 2004 | 1h 51mn 45s | 16,2 km/h |
Start (northern side): Briançon (1220m).
Road:

The first part (up to Cervières) is rather soft and the road is very wide. There is a small piece of descent before reaching Cervières (1630m). Then, the second part begins where it is a real fight to ride to the top with a slope higher than 8 % out of the last 10 kilometers. The road curves in the forest and the difficulty seems to become easier only when the Napoleon refuge is reached. Only 2km to the top.
Some days in the summer, the road is closed (in the morning) for the motor vehicle traffic starting from Laus on the northern side and from Brunissard on the southern side.
| | |
| --- | --- |
| Profile: | |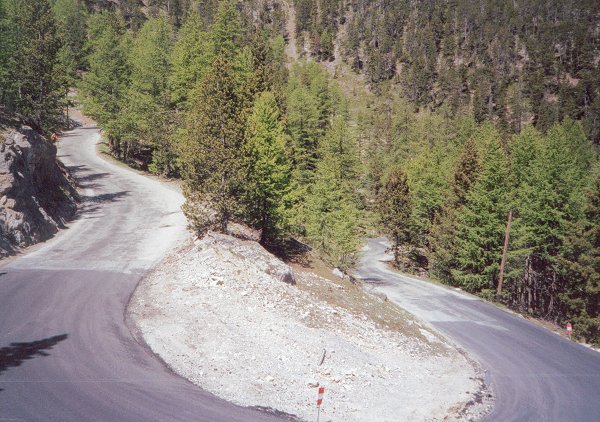 Source: Grenoble Cycling pages
Start (southern side): Guillestre (1050m).
| | |
| --- | --- |
| Road: | We start with a cliff road not climbing very much and even slightly descending per moments. There are some tunnels before a first crossing of the river named Guil. The climb continues quietly, we cross again twice the Guil, reaching a pair of hairpins after which we turn left at the crossing D.902/D.947. The road toward col Agnel continues straight. Now, there are nearly no trees anymore to protect against the sun. The road is beautiful, never straight, with a quite soft slope until Arvieux. Then, the long straight lines are terribly killing until Brunissard, the slope becoming hard (9%). After Brunissard, the forest is back, which is not sufficient when the sky is blue to avoid the weight of the heat. After some nice hairpins, we reach the famous Casse Déserte. A short descent and some few loops is the program for the last 3km to the top. |
| | |
| --- | --- |
| Profile: | |

Some pictures...


| | |
| --- | --- |
| | |
| Refuge Napoléon (2300m) | Northern side |
Specific links (in french):
Not to confuse this mythical pass with the great helmeted casoar.