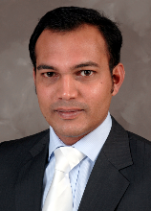 Abhilash Alexander Miranda
is an alumnus of the
Machine Learning Group
,
Université Libre de Bruxelles
. He was supervised by Prof.
Gianluca Bontempi
for his
PhD
in multivariate time series learning as well as for his research towards
TANIA
intelligent anesthesia systems. With a formation in electronics and communications engineering from the
University of Kerala
, his masters from the
University of Strathclyde
made him competent in digital signal processing and control systems. His current interests include data-driven modeling and optimization of industrial processes, computational business intelligence, and statistical pattern recognition.