---
Mont Ventoux (1909m)
---

4 climbs
Southern side
| | | | | | |
| --- | --- | --- | --- | --- | --- |
| | Bédoin (295m) | Mont Ventoux (1909m) | 21,4 km | 1614m | 7,5 % |
| | | |
| --- | --- | --- |
| 2003 | 1h 37mn 45s | 13,1 km/h |
| 2004 | 1h 38mn | 13,1 km/h |
Northern side
| | | | | | |
| --- | --- | --- | --- | --- | --- |
| | Malaucène (340m) | Mont Ventoux (1909m) | 21,1 km | 1569m | 7,4 % |
| | | |
| --- | --- | --- |
| 2003 | 1h 34mn 30s | 13,4 km/h |
| 2004 | 1h 36mn | 13,2 km/h |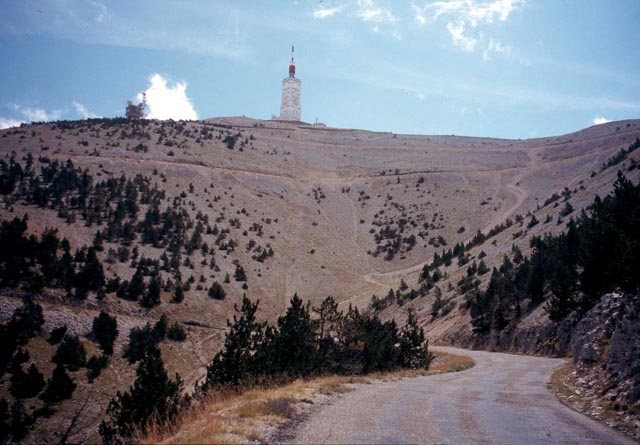 Uncredible climb.
Road:

This is the hardest of the three roads, starting with easy slopes, just for the warm-up, up to Saint-Esteve (6km).
There, after a small bridge, the road climbs much harder: during 10km, the road passes through the forest, with a lot of turns, but without real hairpin; the slope is near 10%. After this long and difficult effort, we reach the Chalet Reynard in a big left-turn; the roads from Sault and Bédoin are crossing there.
Then, in the last km of the climb, the weather has a more important influence: Since we are not protected by the forest anymore, and the top is not so far, the wind and the sun have a big impact on tired organisms. The white stones all around the road reinforce the effects of the sun, while the wind is not attenuated any more by the protective trees of the first kilometers. Even by good weather, the wind is present; many bikers have been stopped, unable to continue riding. The final turn is a narrow hairpin (where the wind is once again destabilizing) 50m remaining before the line which marks the beginning of the descent towards Malaucène.
| | |
| --- | --- |
| Profile (south): | |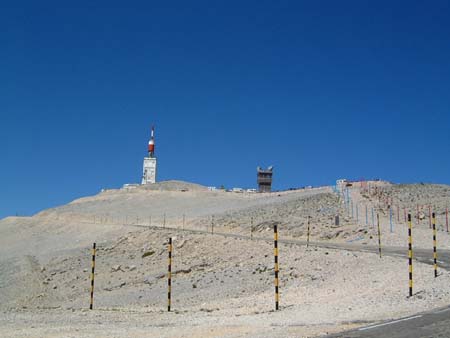 Welcome to the moon !
Start (northern side): Malaucène (340m).
| | |
| --- | --- |
| Parcours: | The northern side is much less regular than the southern one: we start by 2km quite easy, before a short climb (1km) above 10%. Just after, the road is quite pleasant and the slope oscillates between 5 et 8%. At half-way (10km), there is a very difficult climb at 10% during 5km with a long straight line that seems never finish. Then, the road continues without too much difficulty up to Chalet Liotard, in a right hairpin where the road is completely flat. A few meters after, the slope gets steepr again, up to the next left loop. The climb continues in the forest with regular and acceptable percentages, until the trees disappear for letting see the big tower of the top: we are nearly done ! From here, the wind can be an adversary, but the road is better protected than on the southern side. The last km is not the easiest but the view is quite beautiful (by sunny weather !) in the last hairpin. |
| | |
| --- | --- |
| Profile (north): | |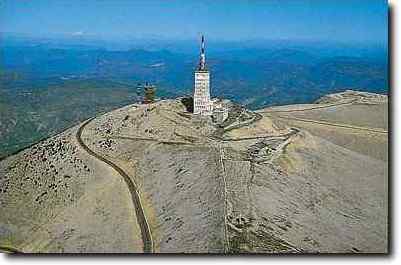 The summit





The western side starts from Sault and joins the southern road at Chalet Reynard. It is the "easiest" way.


Some pictures...


Last turn
Southern side

The tower at the top

Finish from Malaucène
Last turn before
Chalet Reynard

Last turn
Southern side

The tower at the top


Specific links: