---
Croix de Fer Pass (2064m)
---

2 climbs
Northern side
| | | | | | |
| --- | --- | --- | --- | --- | --- |
| | Saint-Jean-de-Maurienne (590m) | Col de la Croix de Fer (2064m) | 28,8 km | 1474m | 5,1 % |
Northern side (via Col du Mollard)
Saint-Jean-de-Maurienne (590m)
Col du Mollard (1638m)

16,6 km

1048m

6,3 %

Col de la Croix de Fer (2064m)

36,6 km

1474m

4 %
| | | |
| --- | --- | --- |
| 2005 | 1h 10mn | 14,2 km/h |
| | 2h 22mn 30s(1) | 15,4 km/h |
(1) Not included: stop at Col du Mollard.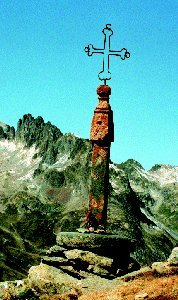 The iron cross
Start (Northern side): Saint-Jean-de-Maurienne (590m).
Road:

The climb is divided in three different parts between which the road is descending. The 1st part is quite short and the climb is pleasant. After a short descent, the 2nd part is very harder: the slope increases and exceeds 10% at some places. When approaching the 4 tunnels, the slope becomes easier and after them, it's descending for the 2nd time. The 3rd and last part begins with a soft slope, but it suddenly strengthen during a terrifying kilometer (just getting out of St-Sorlin d'Arves). After that, the road finishes with some hairpins. This climb is much harder than it seems when you look at the profile and the average slope (5,1 %). It is because of its length (nearly 30km) and because of several brutal change of slope along the road, leading to very difficult pieces.

There are 2 other sides: the southern one (by Rochetaillée) not described here and the north-west side which is the same as the northern side of the Glandon followed by 3km partially in common with the southern road.
| | |
| --- | --- |
| Profile: | |
Start (Northern side, via Col du Mollard): Saint-Jean-de-Maurienne (590m).
| | |
| --- | --- |
| Road: | we start with a slight descent, and then the road climbs quite softly, in a straight way. After some kilometers, the slope becomes harder and the back-loop turns appear. The road is protected from the sun by a dense forest. When getting out of the trees, the village of Albiez-le-Vieux is not so far. The top is about one kilometer further. In a nice descent (6km), the road joins the northern climb to the Croix de Fer, a few kilometers before Saint-Jean d'Arves. |


Some pictures...


| | | |
| --- | --- | --- |
| | | |
| The bar | Zoom on the bar | The iron cross |
Specific link: